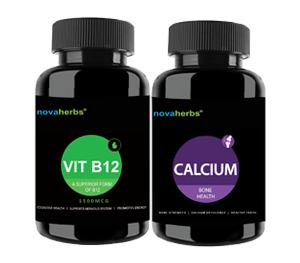 Healthy Blood, Brain and Bones Combo
Sale price Price Rs. 1,500.00 Regular price Rs. 2,000.00 Unit price / per
Tax included.
WHY NOVAHERBS Vitamin B12 and Calcium
IMPROVE MEMORY
A lack of vitamin B12 can cause neurological problems, which affect your nervous system, such as:
vision problems. memory loss. 
Novaherbs Vitamin B12
supplements can help improve memory.
Read More
ANEMIA
Anemia is a condition in which your body does not have enough healthy red blood cells, due to a lack (deficiency) of vitamin B12.
Novaherbs Vitamin B12
helps to make red blood cells, which carry oxygen to all parts of your body.
Read More
STABILIZE MOOD
Though vitamin B12 supplements may help improve mood and depression in people with a deficiency,
Novaherbs Vitamin B12
is needed for the production of serotonin, a chemical responsible for regulating mood.
Read More
HEALTHY TEETH
Calcium and Vitamin D play a vital role in the formation
and maintenance of healthy teeth and gums in both children and adults. Calcium plays a role in making the jaw bones healthy and strong to hold the teeth in place.
Novaherbs Calcium
helps you to develop and maintain healthy teeth and gums.
Read More
HEALTHY BONES
Calcium is an essential mineral needed for
healthy bones. Some studies suggest that calcium supplementation can improve bone mineral density and reduce fractures.
Novaherbs Calcium
and Vitamin D together help in building up stronger and healthy bones.
Read More
MAINTAIN STRENGTH
Calcium is a mineral that people need to build and maintain
strong bones. It is also very important for other physical functions, such as muscle control and blood circulation.
Novaherbs Calcium
helps you to maintain the strength needed for exercise and live healthily.
Read More