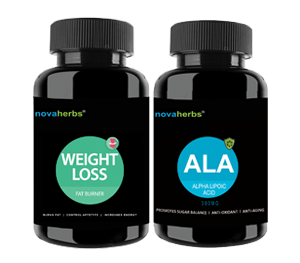 Weight Management Combo
Sale price Price Rs. 2,800.00 Regular price Rs. 3,100.00 Unit price / per
Tax included.
Novaherbs Weight loss and ALA helps in Managing Weight and Sugar Level
WHY Novaherbs Weight loss and ALA
WEIGHT MANAGEMENT
Weight Management can be challenging. You're motivated at
first, and then you hit a plateau. You may be able to keep up with weight loss up to a certain point, but it often becomes harder to keep up the healthy habits over time. 
Novaherbs Weight Loss 
comes to your rescue by making this process faster.
Read More
SUPPRESS APPETITE
It's normal to feel hungry. It's your body's way of telling you
it's time to fuel up. But if you find yourself craving food even though you just ate, there's a good chance you'll gain weight.
Novaherbs Weight Loss
works truly in managing your weight as it manages hunger so that you stick to your diet.
Read More
BOOST METABOLISM
To boost your energy you need to eat right, build muscles
and keep a healthy sustainable lifestyle.
Novaherbs Weight Loss
helps in maintaining your metabolism so that you can work more on your body.
Read More
PROMOTES SUGAR BALANCE
For Many people, diabetes has become a great challenge like a roller coaster, with ups and downs.
Alpha Lipoic Acid help to fight type 2 diabetes.
Novaherbs ALA
supplements potentially lower blood glucose, which can protect from nerve damage.
Read More
ANTI-OXIDANT
Antioxidants are necessary substances that protect body cells and the immune system from being
damaged by harmful chemicals in air and foods.
Novaherbs ALA
contains Antioxidants to maintain a healthy body and protect it.
Read More
HEALTHY NERVE
Novaherbs ALA helps lower blood sugar levels. Its ability to kill free radicals may help people with diabetic
peripheral neuropathy, who have pain, burning, itching, tingling, and numbness in arms and legs from nerve damage.Its supports nerve pain relief & nerve regeneration.
Read More
Try Novaherbs today and see the difference!