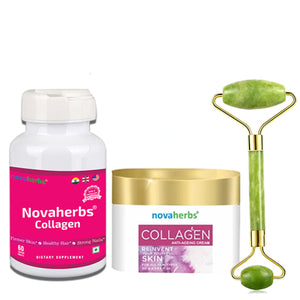 Pretty Skin Collagen Combo
Sale price Price Rs. 3,200.00 Regular price Rs. 3,500.00 Unit price / per
Tax included.
With Novaherbs Collagen, get healthy, fast-growing hair, anti-aging agents for the skin, and healthy stronger nails. Novaherbs is WHO-GMP, ISO 9001:2015, and FSSAI quality certified.
NOVAHERBS COLLAGEN IS RECOMMENDED BY DERMATOLOGISTS.
WHY NOVAHERBS COLLAGEN
LESS FACIAL SAGGINESS
As we age, the collagen content in our skin reduces,
which leads to wrinkles and sagging skin. 
Novaherbs Collagen
helps in reconstructing the facial skin by increasing skin elasticity, hydration, and collagen density. This leads to more improvement in skin appearance, firmness on your face, and eliminates wrinkles.
Read More
LESSENS CROW'S FEET
Novaherbs Collagen helps to soothe skin and reduce
the appearance of wrinkles especially in the corner of the eyes and the softening of the nose to the mouth line. You'll be able to look in the mirror again and enjoy what you appear and be more satisfied than before.
Read More
HEALTHY HAIR & FULL EYEBROWS
Collagen and biotin help in the growth of the hair.
Novaherbs Collagen
also contains biotin which helps your body make more keratin, which contributes to thick, healthy hair. It prevents eyelashes from becoming brittle (and shedding). It also helps your eyebrows grow thicker to their full glory.
Read More
REDUCES BELLY FLACCIDITY
Many women wish to have a perfect body and to achieve this goal they
usually, do a diet first to reduce their belly fat. However, after reducing a few kilos, the skin may become flabby
Novaherbs Collagen
makes your skin's structure provides firmness, and reduces sagginess.  
Read More
LESS STRETCH MARKS & CELLULITIS
Women are more prone to cellulite than are men.
Cellulite generally chooses to sit on butt and thighs. 
Novaherbs Collagen
is a supplement that makes your skin more elastic, which in turn reduces the cellulite on your thighs and butt, giving you the confidence to wear that bikini and the clothes you want to wear without any worry.
Read More
BREAST FIRMING
Breasts don't have muscle. However, beneath the breasts are fibrous
connective tissue and muscles that can be toned to improve the overall appearance of your breast.
Novaherbs Collagen
 helps to have bigger breasts, improve the texture and tone of your skin, and makes the breasts firm.
Read More
Try Novaherbs Collagen today and see the difference!
For best results use with Novaherbs Collagen Cream