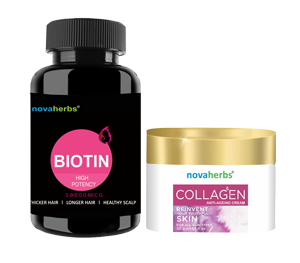 Skin, Hair & Nails Combo
Sale price Price Rs. 2,500.00 Regular price Rs. 3,000.00 Unit price / per
Tax included.
Novaherbs Biotin plays an important role in the health of your hair, skin, and nails.


WHY NOVAHERBS Biotin & Collagen Cream
ANTI-AGING

Beauty begins the moment you decide to take care of yourself.
Novaherbs Collagen Cream
helps to diminish the look of fine lines and wrinkles with a powerful combination of Active Retinol and Hyaluronic acid.
Read More
TIGHTENS SKIN
As you grow older, collagen production in the body slows down.
Novaherbs Collagen Cream 
product contains collagen that can help maintain healthy skin and improve elasticity. This will make your skin look tighter
Read More
HEALTHY NAILS
Brittle nails are fragile and easily become split or cracked. A biotin deficiency can lead to brittle nails.
Novaherbs Biotin
supplement supplements that contain biotin could improve the strength of their nails.
Read More
THICKER HAIR

Biotin deficiency can lead to thinning of the hair, and no one would like it!
Novaherbs Biotin
supplements help in making your hair thick and stimulate hair which improves the overall hair quality and making it shine again.
Read More
LONGER HAIR
There is a saying "If a woman has long hair, it is a glory her"
Deficiency of biotin caused by pollution, harmful chemicals can lead to hair loss, which indicates that the vitamin is involved in keeping the hair healthy.
Novaherbs Biotin
boosts the health of the hair and increases the rate of hair growth.
Read More
HEALTHY SCALP
As we always say - a healthy scalp is a key to healthy hair!
Biotin plays a key in the metabolism of amino acids, which are the building blocks of keratin – the special protein your hair is composed of.
Novaherbs Biotin
helps in the breakdown of fatty acids, which are essential to scalp health.
Read More